Scenic USA - Florida
Scenic USA offers a collection of select photographs from a wide variety of attractions, points of interest, historic sites, state and
national parks found throughout the United States. Each photo feature is coupled with a brief explanation.
For further detailed information, links to other related sites are provided.
Mallory Square
Mallory Square was once Key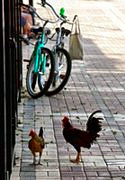 West's most important deep water harbor. Today, the square is a gathering place for tourists, art exhibitors and street performers, and a ritualistic sunset celebration.
Once part of a chain of remote south Florida islands, the area relied on the sea for all their imports and exports. The port saw trade ships from New York, Texas and nearby Cuba. Today, Mallory Square is a stop-off port for cruise ships headed to the Caribbean and Mexico. The Hospitality House and Museum, presents a look into the island's past, and was once a ticket office for the Mallory Steamship Company.
Crowds begin to gather about two hours before sundown to enjoy the entertainment. The street performers, chickens and visitors are all a part of the this unique Key West atmosphere.
Copyright ©2008 Benjamin Prepelka
All Rights Reserved