Scenic USA - Texas

Presidio La Bahia
---
---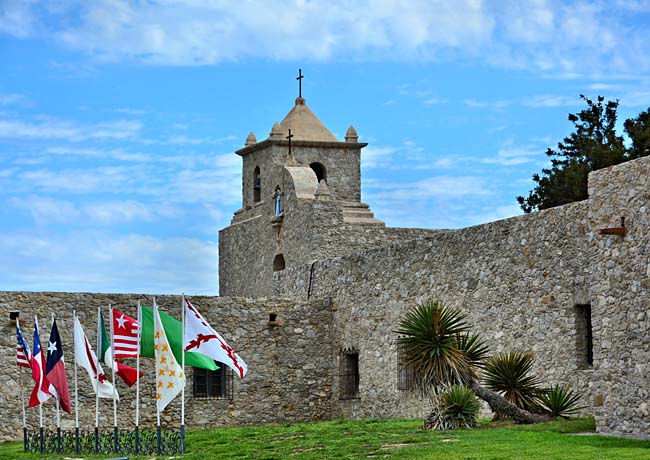 While Spanish conquistadors combed the New World for gold and treasure during the 16th and 17th centuries, the Spanish Crown and Catholic Church united their efforts to settle and control this vast new empire. Missions were set up as the first step in Spanish colonization, protected by forts called presidios.
   Early Spanish explorers establish a mission near an Aranama Indian village called Santa Dorotea. Presidio Santa Maria del Loreto de la Bahia was established in 1749 nearby the Mission Espirito Santo, just outside present day Goliad.
   The history of Presidio La Bahia is well remembered for the massacre of Col. James W. Fannin Jr. and his troops during the Texas Revolution. The battle cry Remember Goliad stirred the Texas troops with ideas of retribution, remembering the fate of their countrymen at La Bahia.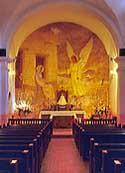 Here Col. James W. Fannin Jr. and his men surrendered only to be slaughtered at the order of General Santa Anna on Palm Sunday morning March 27, 1836.
   A restoration project, headed by the Kathryn Stoner O'Connor Foundation, appealed to the expertise of architect Raiford Stripling and archeologist Roland Beard. Based on archeological evidence and old documentation, the presidio was rebuilt to its 1853 appearance. One of the more important forts in the southwest, today's structure is one of the finest examples of a complete Spanish presidio in Texas. Our Lady of Loreto Chapel, serving the needs of its people for the last 235 years, still holds Mass services every Sunday at 5 pm. This beautiful Chapel, despite its dramatic and bloody history, attracts many wedding couples. Citing its gorgeous woodwork and frescos, the church and Presidio add plenty of history and spirit to a Texas wedding.

     Area Map
---
| | |
| --- | --- |
| Additional Points of Interest | |
---
Copyright © 2012-16 Benjamin Prepelka
All Rights Reserved