Scenic USA - Pennsylvania
Scenic USA offers a collection of select photographs from a wide variety of attractions, points of interest, historic sites, state and
national parks found throughout the United States. Each photo feature is coupled with a brief explanation.
For further detailed information, links to other related sites are provided.
Klinepeter Bridge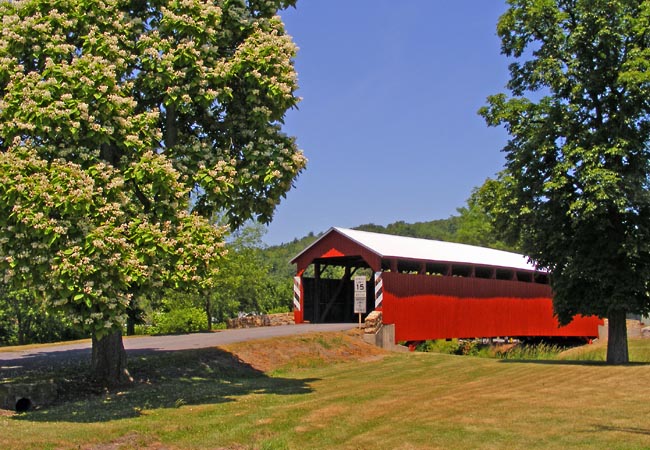 During the mid 1800s, the state of Pennsylvania became one of the countrywide leaders in covered bridge construction. As the Industrial Age brought on the need for widespread transportation, these sturdy bridges provided quick means to cross hundreds of the state's waterways. Although making a wonderful subject in paintings and photographs, covering a wooden bridge was a matter of practicality, rather than aesthetics. Expensive wooden superstructures, exposed to the weather, were vulnerable to rot. Over the years this approach has been well proven, with some of the 1800s bridges surviving well past the century mark.
Beaver Springs, first known as Regerstown, was settled in the late 1700s, and consisting of 18 homes by 1806. Mining and lumbering boosted the town's population, and was firmly placed on the map when the Middle Creek Valley railroad tracks were laid down in 1871. That same year the Klinepeter bridge was built. The 105' bridge used a Burr truss design. The wooden truss system was named for the earliest and most prominent bridge builder in America, Theodore Burr. There are more covered bridges in Pennsylvania using the Burr design than all other combined. The Klinepeter Bridge (Gross Bridge) was relocated in 1982 to its present location on Railroad Avenue and Spring Street. The 1985 refurbishment has left the bridge in picture perfect condition and still supports light traffic.
Copyright © 2009 Benjamin Prepelka
All Rights Reserved