Scenic USA - Arizona
Scenic USA offers a collection of select photographs from a wide variety of attractions, points of interest, historic sites, state and
national parks found throughout the United States. Each photo feature is coupled with a brief explanation.
For further detailed information, links to other related sites are provided.
Peralta Canyon Sunset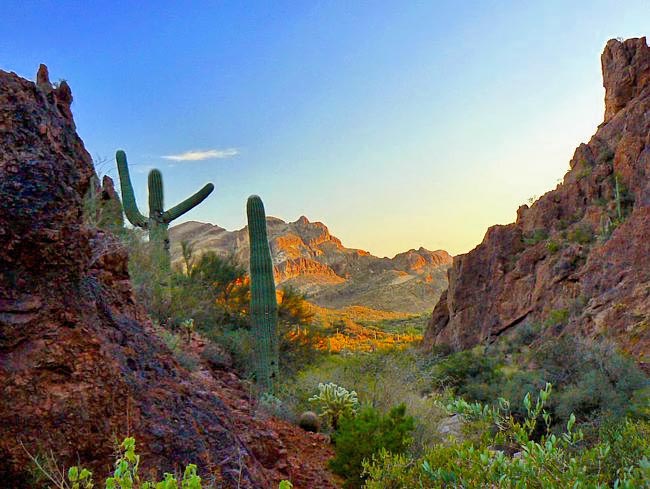 On the outskirts of the huge Phoenix metropolitan area lie two of Arizona's wilderness lands. A dramatic change from the grid-work of city streets and dwellings, these rugged lands are seen as a comforting get-away from the congested city. The Sonoran Desert wilderness areas of Four Peaks and Superstition are part of the Tonto National Forest. The Four Peaks Wilderness Area, close to 60,000

acres and offering 40 miles of hiking trails, can be accessed via FR 143, a gravel road.
The Superstitions, almost 160,000 acres, was first established in 1939 as a primitive area. Here the land is characterized by desert grassland, thick chaparral, and a few isolated pockets of ponderosa pine and Douglas fir. Although the Superstition Mountains offer over 180 miles of trails, Penalta and First Water Trails remain the most popular. Pictured above is a view from Penalta Canyon. As hikers progress up the canyon toward Freemont Saddle, Weaver's Needle comes into view. It's in the shadows of this volcanic plug where the Lost Dutchman's gold is said to remain. Hikers, viewing this glowing sunset, were most likely seeing the only gold discovery in the Superstitions.
Copyright ©2008 Benjamin Prepelka
All Rights Reserved