Scenic USA - New York

Adirondack Park
---
---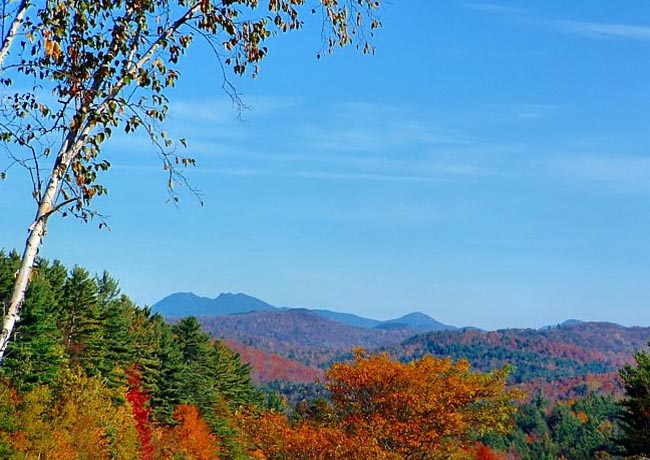 Success for any member of the Forty Sixers Club means climbing all 46 Adirondack peaks over 4000 feet.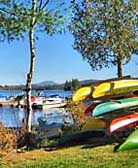 This is one radical goal as 20 of these mountains offer no established trails. Some think of the Adirondacks as an extension of the eastern Appalachian Range, but this mountain range is most likely related to the Canadian Laurentian Mountain chain. And the highest mountain peak there, Mount Marcy (Tahawus), stands at 5344 feet.
   More than just mountain peaks, the Adirondack Park is one of the most unusual parks in America. The park is the only wild-lands preserve in the United States whose future is decided by state voters. Totaling 6 million acres, the parkland takes up nearly a third of New York State. The park not only covers vast forestland and rugged mountains, but also includes hamlets, villages and private lands. About 2.5 million acres of this land may be accessed by the public, a park that boasts of 10,000 lakes, 30,000 miles of rivers and streams, and acres and acres of old-growth forests. An outdoor recreation mecca, Adirondack visitors may enjoy sightseeing, camping, boating, horseback riding, picnicking, hiking, mountaineering, hunting, fishing, swimming, water skiing, and even scuba diving. Hiking trails, maintained by New York State Department of Environmental Conservation, cover more than 2000 miles.
   Before the 1800s the Adirondack wilderness was viewed as desolate and forbidding.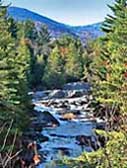 But by the end of the 19th century, hundreds of hotels and camps were created, where most were accessed by new railroad spurs. An increase of heavy logging and the spread of commercialism brought about new thinking, leading to several ways to protect the Adirondack watershed. A commission led by botanist Charles Sprague Sargent offered the suggestion of a forest preserve, a land to be kept forever as wild forestland. In 1885 the Adirondack Forest Preserve was created, withstanding decades of special interests challenges. The Adirondack Preserve, plus the additions of Yellowstone National Park and Yosemite Park started the park movement in America and paved the way for the National Wilderness Act of 1964.

    Area Map
---
| | |
| --- | --- |
| Additional Points of Interest | |
---
Copyright © 2007-17 Benjamin Prepelka
All Rights Reserved