Scenic USA - North Carolina

Big Cataloochee-Palmer Chapel
---
---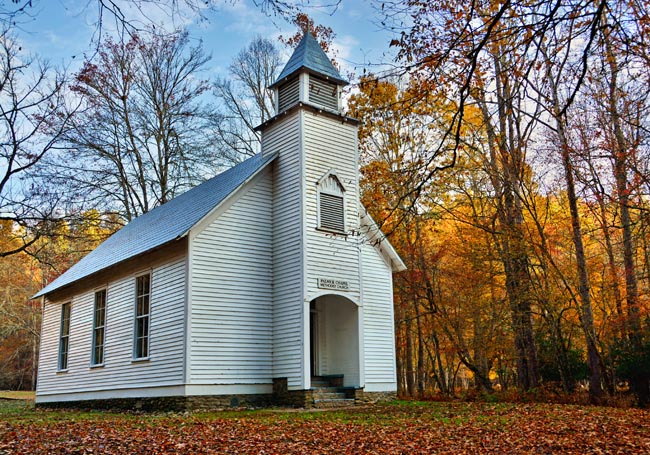 Similar to the ever popular Cades Cove in the Great Smoky Mountains National Park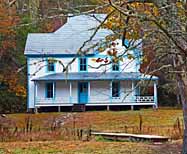 without the heavy traffic, Big Cataloochee Valley preserves a half dozen vernacular structures of the late 19th and early 20th centuries. Big Cataloochee, Little Cataloochee and Caldwell Fork, three parallel valleys, consisted mainly of farmland, supporting a community of about 1200 people. At the turn of the century, nearly 200 buildings were scattered throughout these picturesque valleys. While only a handful of farm buildings and homes remain today, the valleys offer visitors an opportunity to enjoy their past history and the area's wildlife in a peaceful mountain setting.
Tucked in among some of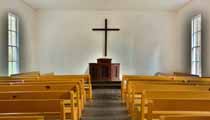 the most rugged mountains in eastern United States, the remote Cataloochee Valley was one of the largest and most prosperous settlements in today's Great Smoky Mountains National Park. An early tourism industry developed in the valley when some families began boarding anglers and tourists who came to vacation in the mountains. Many arrived, seeking restoration of their health from mineral-rich mountain springs. The Big Cataloochee was first discovered by militia men brought in to stop Indian raids in the late 1700s. Appreciating the beauty of this area, they decided to settle in this section of Haywood County.
A self-guided tour of the valley offers a look at five historic buildings located along the road, including a school, a church, a barn, and several homes. Other buildings may be reached along the Little Cataloochee Trail.
Among the buildings available for tour is the Palmer Chapel. The Methodist faith was brought to the valley by some of its first settlers. Once the only church in the area, land for this building was deeded by Mary Ann Palmer in 1898, and the church was raised the same year. Preachers, many of them circuit riders, visited the church once each month. George Palmer arrived in Cataloochee in 1838 and settled at the eastern end of Big Cataloochee. Like most families in the valley, the Palmers would remain in Cataloochee until the arrival of the national park, having to sell their land or be forced out by eminent domain.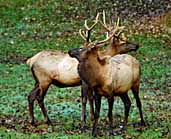 The Palmer family name was associated with many landmarks and buildings in the valley, such as Palmer Creek, the Palmer Lodge, the Palmer House, and the Boogerman Trail, named after Robert "Boogerman" Palmer.
The park area, rich in history, conveys its past with the subjects of Appalachian herb doctors, chestnut trees, square dances, split rail fences, hard cider, biscuits and gravy, clogging and moonshine stills. Accessed over a very narrow mountain road, the Cataloochee Valley is also a prime area for wildlife viewing. Elk were released in Cataloochee Valley in 2001 as part of an experimental program to reestablish a herd in the park. Along with white-tailed deer, wild turkey and an occasional black bear, elk watching is best during mornings and evenings in the valley's open fields.

Area Map
---
Nearby Points of Interest
---
Copyright © 2006-16 Benjamin Prepelka
All Rights Reserved