Scenic USA - Oklahoma
Scenic USA offers a collection of select photographs from a wide variety of attractions, points of interest, historic sites, state parks and
national parks found throughout the United States. Each photo feature is coupled with a brief explanation.
For further detailed information, links to other related sites are provided.
Charons Garden Wilderness
Oklahoma's fleeting crimson sunlight has left the Wichita Mountains in an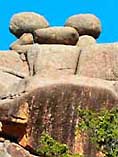 eye-catching silhouette. Another day has ended at the Charons Garden Wilderness, just as it always has for thousands of years. Except for a few established hiking trails, the land has been preserved and remains as it always was. The rugged mix of granite boulders and prairie grass makes it a desirable environment for grazing elk, white-tailed deer and bison. The rocky mix of boulders made it impossible to farm, making it a unique, pristine area to preserve. Wichita Mountain Refuge was established in 1901. This untouched section of southwest Oklahoma encompasses 59,000 acres and offers hiking adventures for all. The Valley of the Boulders is rated strenuous and should be attempted by those individuals in prepared condition. Their treat may be a sunset such as this wonderful view.
Copyright ©2007 Benjamin Prepelka
All Rights Reserved