Scenic USA - Kentucky
Scenic USA offers a collection of select photographs from a wide variety of attractions, points of interest, historic sites, state and
national parks found throughout the United States. Each photo feature is coupled with a brief explanation.
For further detailed information, links to other related sites are provided.
Kentucky Natural Bridge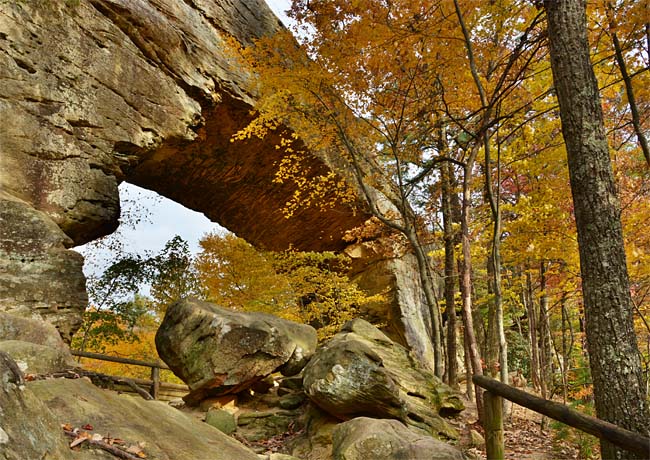 Kentucky's Natural Bridge has drawn visitors to Powell County for the last 100 years. The first sightseers in 1896 were brought in by train over the Lexington and Eastern Railroad line. The 2,300 acre pack was setup by the railroad company, and was centered around the 78 foot wide natural wonder. The Kentucky Parks Service has managed the park since 1925, and has added considerable amenities. The resort park features the Hemlock Lodge, swimming pool and the Sandstone Arch Restaurant.
The park also feature 20 miles of hiking trails, with a well worn, three quarter mile path leading up to the sandstone bridge. The trail is not the only way to take in a view of the arch, as the Skylift travels up from the valley to Lookout Point, for a close-up encounter.
The park is noted for its traditional Appalachian square dances. During the summertime, the weekends come alive on Hoedown Island, where the tradition has endured for over have a century. Hoedown Island has been designated as the clogging capitol of Kentucky.
Copyright ©2008 Benjamin Prepelka
All Rights Reserved