Scenic USA - Pennsylvania

Ricketts Glen State Park
---
---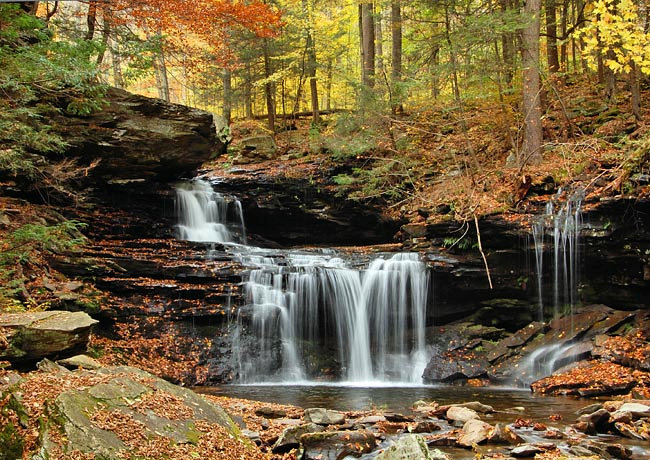 During the summer months, Ricketts Glen State Park visitors flock to Lake Jean, enjoying a 600 foot beach and nearby picnic area. The park concessioner provides snacks,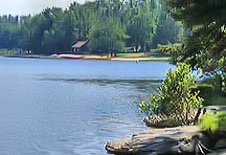 boat rentals and plenty of ice cream to beat the heat. Typical park amenities include a campground, cabins, hunting areas, and 26 miles of trails. Sounding much like an ordinary park, there's a big reason why this is one of the most popular recreation areas in Pennsylvania.
   The answer has much to do with the park's topography. Lying in a transition zone between the Allegheny Plateau and the Appalachian Valley and Ridge Province, the steep Allegheny Front drops nearly 1000 feet in just over two miles. Here, two branches of Kitchen Creek descend through this
escarpment creating the narrow valleys of Glen Leigh, Ganoga Glen, Ricketts Glen, and a series of waterfalls. At the confluence of Kitchen Creek's two branches, Where the Waters Meet, the stream begins to level out after three more fair sized waterfalls. From here Kitchen Creek flows out towards Route 118. Here you find the lower parking area, the Evergreen Trail and one of the easiest waterfalls to reach, Adams Falls.
   Now a National Natural Landmark, Ricketts Glen State Park features 24 waterfalls, many named by former owner Robert B. Ricketts. This has got to be a waterfall fan's biggest dream! Trails along each branch of Kitchen Creek allow close up views of all the park's waterfalls, while the 1.2 mile Highland Trail connects the two trails at the top of the Y. Here among this park's 13,000 acres an old growth forest of 2000 acres, with some trees dating back 900 years, surround this marvelous collection of waterfalls.
Two types of waterfalls prevail in the glens. Wedding-cake waterfalls descend over a series of step-like rock layers, while bridal-veil falls drop vertically over a ledge into a plunge pool. With over six miles of trails making up a grand loop, this hike will take the majority of the day. Counting stops for plenty of photographs, this waterfall extravaganza may require a little more than casual planning and perhaps more than one trip into the glens.
   Although the land was approved as a national park site in 1930, the Depression Era and World War II sidelined these plans. Pennsylvania state officials began buying up the land in 1942 and fully opened the park in 1944. With both state and national recognition, the park is guaranteed to remain protected and maintained in its natural state.

    Area Map
---
| | |
| --- | --- |
| Additional Points of Interest | |
---
Copyright © 2012-17 Benjamin Prepelka
All Rights Reserved