Scenic USA - Connecticut

Hubbard City Park
---
---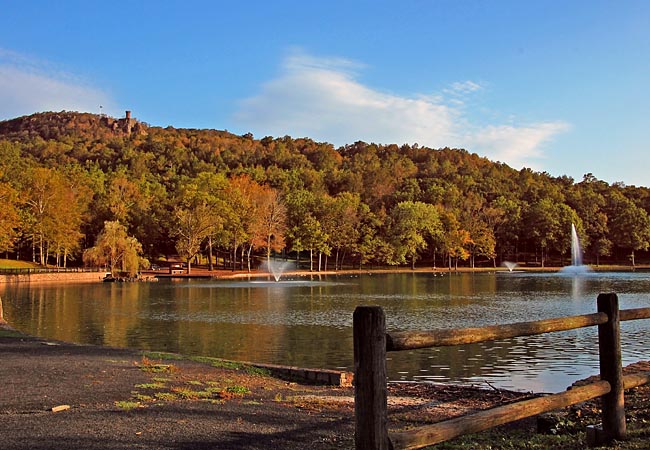 Located in the Hanging Hills of Connecticut, Hubbard Park covers 1800 acres just to the north of Meriden. The park lies on a semi-circular shaped ridge formed by ancient volcanic activity nearly 200 million years ago. What remains is a traprock ridge that overlooks Meriden and the Quinnipiac River Valley, including two named mountain peaks within the park boundaries.
   Hubbard Park was developed by Walter Hubbard in 1806, aided by the expert advice of landscape architect Frederick Law Olmsted. Using nearly a half million dollars of his own money, Hubbard cleared the land, laid out park roads and constructed Mirror Lake. Overlooking the park, Hubbard built a traprock tower known as Castle Craig.
   Today, the park remains free to the people of Meriden, a stipulation that Hubbard issued when conveying the park to the city.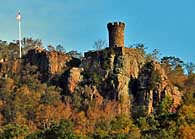 Comprised of woodlands, streams, flower gardens, picnic areas and a band shell, the park remains one of the area's most popular attractions. Hikers enjoy the 51 mile Metacomet Trail that skips along the mountain tops, passing Castle Craig and East Peak where the castle rests. Meriden residents enjoy the park's splendid gardens, especially when the park's daffodils announce the coming of spring. The park is again brightened in the winter with 300 lighted displays, featuring a half million lights. And in compliance with Hubbard's request, the Daffodil Festival and the Festival of Silver Lights remain free to the public.

     Area Map
---
---
Copyright © 2012-17 Benjamin Prepelka
All Rights Reserved