Scenic USA - Florida

De Leon Springs
---
---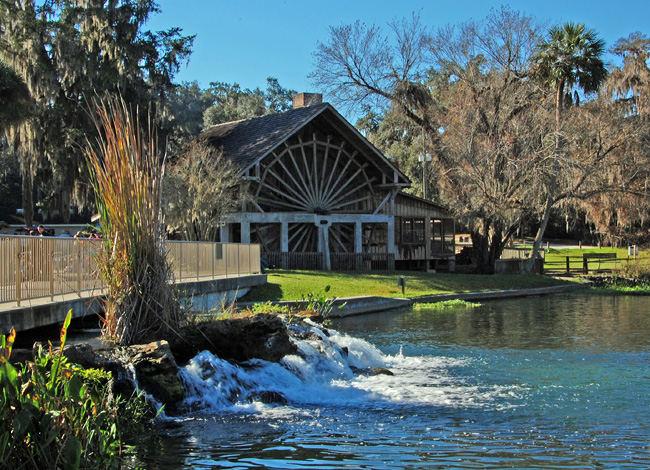 The idea of living longer just from sipping the eternal waters from the fountain of youth always been intriguing, especially to the elderly. Although none of his expedition records make mention of it, Ponce de Leon's name will be forever linked with tales of his search for the Fountain of Youth. Today in St. Augustine, a tourist attraction offers spring water from a fountain discovered by Ponce de Leon in 1513. No one seems to be getting younger in St. Augustine, but it's always fun to dream that the fountain is out there somewhere.
   Just to the south, about 60 miles, is a beautiful spring named for Juan Ponce de Leon. American Natives have been enjoying this spring for over 6000 years. By 1880 the spring area was fully Americanized and developed into a resort. Here guests could enjoy the miracle waters impregnated with soda and sulpher, and relax in the warm winter climate. Visitors to De Leon Springs today can still enjoy a pool that surrounds the ever-flowing spring, known to pump out 14 million gallons of crystal clear water every day.
   Surrounding the spring pool, the Visitor Center, Sugar Mill Restaurant, picnic area and boat dock create a lively atmosphere. Visitor center exhibits relate the spring's history, while children appreciate Florida's wildlife at a touch table.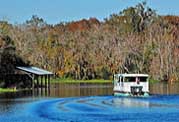 The old sugar mill was converted into a restaurant and gift shop, where patrons eagerly wait for a breakfast table. This all-you-can-eat pancake breakfast comes hot off the griddle built right into your table. Boat tours on Spring Garden Run introduce guests to the real Florida. Along with otters, river guests enjoy the sights of alligators, herons, coots and grebes. Occasional sightings of the land dwelling creatures include the great horned owl, deer, fox and black bear that skirt the hammock.
   De Leon Springs State Park is a great example of Florida's well kept state parks. Among the list of National Gold Winners, Florida's park system is the only state to win this prestigious award twice. Even though the spring waters may not keep you young, visitors of all ages may enjoy a play-day at this popular park.

    Area Map
---
| | |
| --- | --- |
| Nearby Points of Interest | |
---
Copyright © 2012-17 Benjamin Prepelka
All Rights Reserved