Scenic USA - New York
Scenic USA offers a collection of select photographs from a wide variety of attractions, points of interest, historic sites, state and
national parks found throughout the United States. Each photo feature is coupled with a brief explanation.
For further detailed information, links to other related sites are provided.
Barcelona Light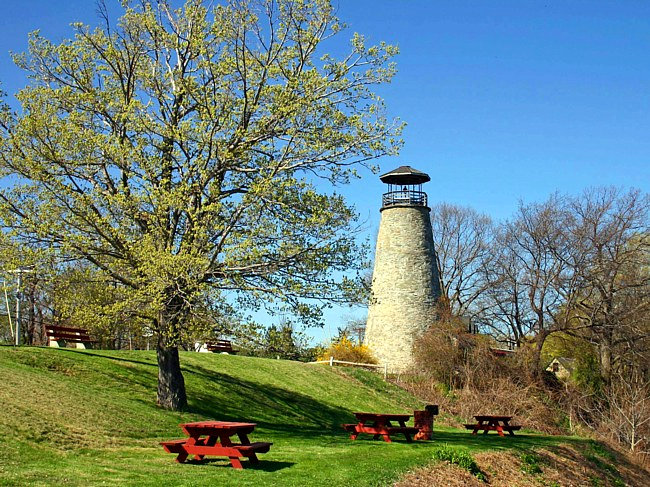 Increased maritime traffic over Lake Erie from the new Erie Canal called for a lighthouse to be built overlooking Portland Harbor. The 40 foot tower was constructed of native fieldstone, and capitalized on an unusual fuel for its light source. Besides its claim to be the oldest lighthouse on the Great Lakes, this National Historic Landmark was fueled with local natural gas. Local townsfolk referred to the natural gas source as a burning spring. The gas was collected in a rock well and transported to the lighthouse through wooden logs. Occasionally the pipes filled with rain water and cut off the gas supply, prompting the light-keepers to keep a close watch and switching to the oil reserve when necessary.
A shoreline railroad, built in 1852, ensured New York's Portland Harbor would never grow. Later, during a lighthouse review, the board voted to decommission the light. The property was sold to George Patterson in 1872. The tower and keeper's quarters stayed with the Patterson Family for 125 years. Today the natural gas is supplied by Iroquois Gas Company and continues the tradition. With only a change in name, the Barcelona harbor area and Westfield residents still enjoy this unique lighthouse.
Copyright ©2008 Benjamin Prepelka
All Rights Reserved