Scenic USA - Tennessee

Crystal Shrine Grotto
---
---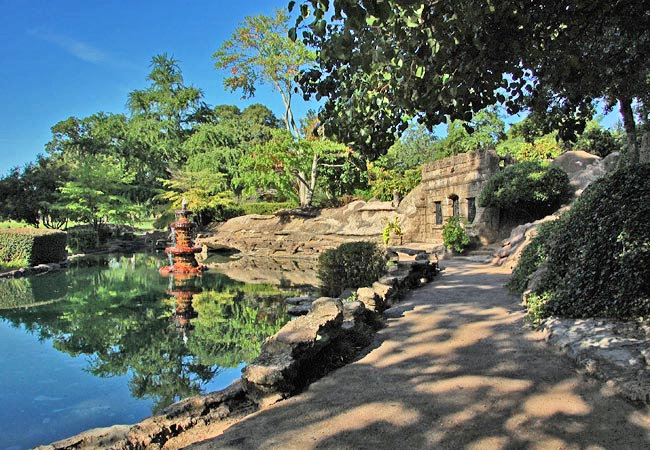 Born in Toluca, Mexico, Dionicio Rodriguez grew up working with his father as a brick layer in Mexico City.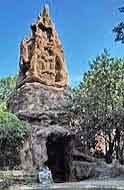 Familiar with concrete work, Rodriguez turned his artistic talents into lifelong career in Faux Bois creations. Spread across eight American states, Washington DC and Mexico, the Mexican artist's unique concrete sculptures depicting stone and faux wood may be found in 22 sites.
   One of these unique finds is the collection of Rodriguez sculptures completed in Memphis's Memorial Park Cemetery.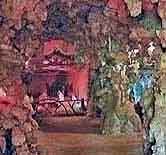 Taking a decade to complete, the Crystal Shrine Grotto is one of the most unusual Faux Bois creations. The Grotto, a man-made cave, is filled with scenes depicting the life of Jesus Christ. Although scenes were completed by various artists after Rodriguez's death, many pieces of his artwork are spread throughout the cemetery park.
   During the Depression Era, the cemetery owner hoped to mirror Forest Lawn, the country's first memorial park. Discovered by E. Clovis Hinds, Rodriguez and his helper were hired for 75 dollars per week. Following Judeo-Christian themes,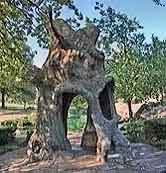 sculptures include Annie Laurie's Wishing Chair, the Broken Tree Branch, Abraham's Oak (a 15 foot, nine inch diameter tree trunk, large enough to walk through - inset), the Pool of Hebron, and the Cave of Machpelah.
   Built over a support structure of steel, copper tubing and wire mesh, Rodriguez worked one sack of concrete at a time. When the concrete was still wet, Rodriguez applied stains, shaped and carved his works with kitchen utensils, twigs and his fingers. Turning concrete into wood textures, complete with bark, knotholes, and natural imperfections, many visitors are never sure the sculptures aren't real wood.

     Area Map
---
| | |
| --- | --- |
| Additional Points of Interest | |
---
Copyright © 2013-17 Benjamin Prepelka
All Rights Reserved