Scenic USA - Idaho

Salmon River Scenic Byway
---
---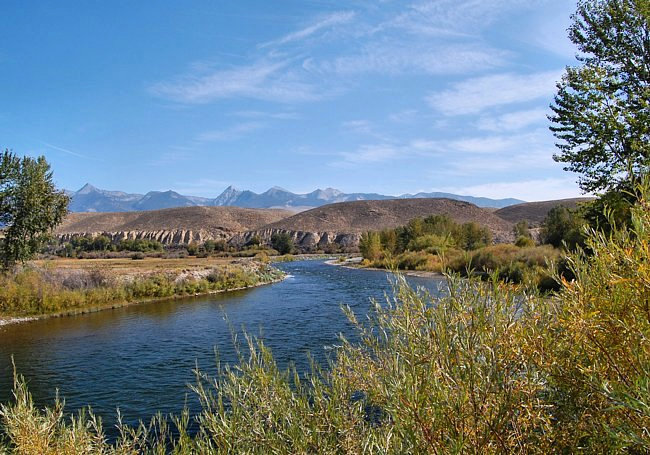 Off to a small start near the Galena Summit in the Sawtooth National Recreation Area, Idahoís Salmon River eventually turns into the Snake Riverís largest tributary.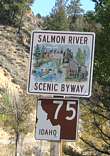 The Salmon River Scenic Byway follows a small section of the river as it makes its way northward toward the junction of the North Fork. Here at the town of North Fork, the Salmon makes an abrupt turn westward, heading across the state and cutting its way through the mountainous Frank Church-River of No Return Wilderness and the Gospel-Hump Wilderness. Itís amazing how the river was able to slice its way through central Idaho, the most rugged terrain of all the Rocky Mountain states.
Here in east central Idaho, the byway follows U.S. Route 93 from Lost Trail Pass to Stanley. As the byway begins at the Montana border, the highway parallels the North Fork of the Salmon, and heads south to join the main river. The byway retraces the steps of Lewis and Clark as they searched for an easier route to the Pacific Ocean in 1805. After climbing Lost Trail Pass in the sleet and snow, Clark became disheartened with the prospects of not being able to follow the River of No Return. Itís now known that the river drops an astounding 7000 feet over its 425 mile journey to the Snake.
This rugged wilderness land, west of the byway, appears much the same as the days of Lewis and Clark.

Along U.S. Route 93 and Utahís Route 75 a few resort towns are scattered over the length the highway. Here, agriculture takes advantage of the smoother foothills along the river valley. Kayakers, canoeists and fly fishermen enjoy the Salmonís pristine waters, while sightseers marvel at the incredible scenery and various points of interest on this 160 mile byway.

Area Map
---
| | |
| --- | --- |
| Nearby Points of Interest | |
---
Copyright © 2010-15 Benjamin Prepelka
All Rights Reserved