Scenic USA - Georgia

Courthouse Cavalcade
---
---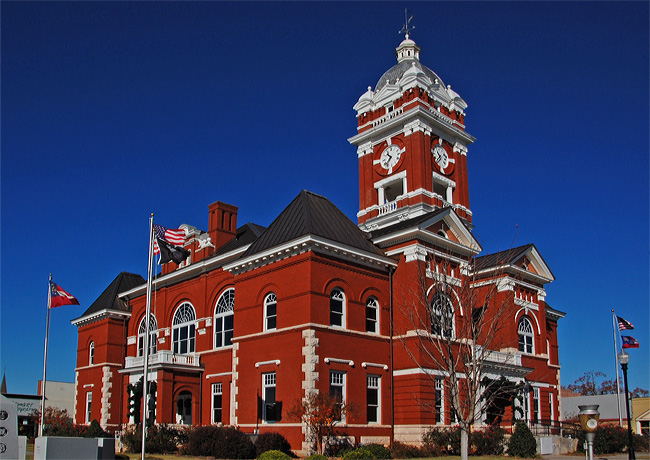 It may come as a surprise,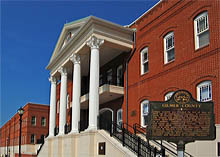 but well versed geography students know Georgia is one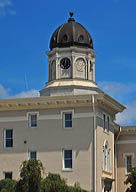 of the largest states east of the Mississippi River. And if you're calculating land area only, Georgia is the largest, beating out Wisconsin, Michigan and Florida where a good percentage of their area is water.
   Another surprise may be the fact that Georgia has second most number of counties in the U.S., followed only by Texas. A state with so many rural farmers, lumberman and ranchers, governmental bodies thought it best that all residents were within a day's journey to the center of the county. During the 19th century, the county courthouse was not just the main building in town, but to the community it was everything. The town square usually marked the central point of the city and center of southern life. Southerners voted here, paid their taxes, bought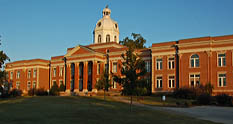 their marriage licenses, recorded births, transferred property and enjoyed one anotherís company.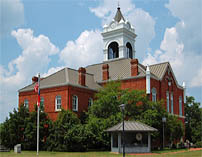 Today many of Georgia's 159 courthouses, built in the 1800s and early 1900s, are listed on the National Register of Historic Places. Some of these historic landmarks follow a specific architectural style, but like many Victorian-era buildings most Georgia courthouse exhibits a mix of styles and vernacular influence.
   A self guided driving tour named Classic Courthouses highlights these landmarks, leading to 22 town courthouses in east-central Georgia, all listed on the National Register.

    East Central Georgia Courthouse Map


   Top: Monroe County Courthouse (Forsyth) High Victorian Eclectic - 1896 - Bruce and Morgan
   Top left inset: Pulaski County Courthouse (Hawkinsville) Neoclassical Revival - 1874
   Top right inset: Gilmer County Courthouse (Ellijay) original 1898 - Condemned 2003-totally rebuilt 2008
   Bottom left inset: Old Union County Courthouse (Blairsville) Romanesque Revival - 1899 - James Golucke (now a museum)
   Botton right inset: Putnam County Courthouse (Eatonville) Neoclassical Revival - 1905 - Designer James Golucke

---
| | |
| --- | --- |
| Georgia's Most Popular Attractions | |
---
Copyright © 2013-17 Benjamin Prepelka
All Rights Reserved