Scenic USA - Tennessee

Old Trace Drive
---
---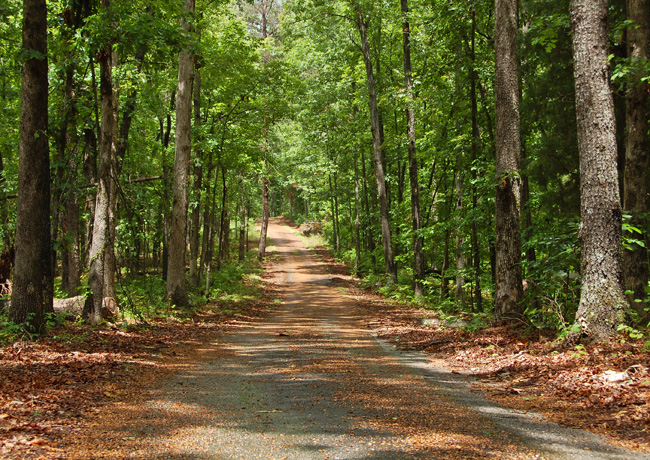 Connecting Tennessee's Nashville and Mississippi's Natchez,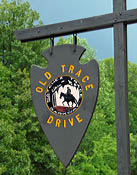 the Natchez Trace Parkway is recognized as both a national park and a national scenic byway. Well worn over the years by Native Americans and early settlers, the trail saw its most heaviest use during the late 1700s by Ohio River Valley boatmen. After delivering goods in the south, the return trip home against the heavy current on the Mississippi without powered vessels was nearly impossible. The easiest route home was overland following the Natchez Trace. When the steamboat was fully developed in the early 1800s, the dangerous trip on the Trace was quickly abandoned.
   Today, the 444 mile parkway, following the Natchez Trace, is best known for its scenic beauty and historic landmarks. Stops along the way include historic earth mounds (Emerald Mound, MS - inset), Natchez Trace inn sites,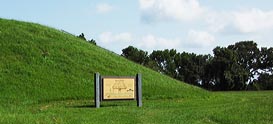 scenic overlooks and thousands of different plants and animals. Uncluttered by modern development and unsightly billboards, byway visitors are able to thoroughly enjoy small sections of the byway at a time. Here in Tennessee, two sections of the original Trace are drivable. Both Old Trace routes are about two miles in length and offer a genuine feel of a 200 year old meandering pathway.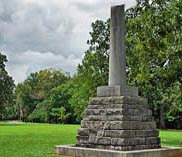 Not recommended for larger or low clearance vehicles, the Old Trace Drive can be enjoyed by car, bicycle or on foot.
   Just to the north of Old Trace Drive (MP 375), Trace visitors will find the Meriwether Lewis Memorial. Buried here at the Grinder House in 1809, Tennessee state legislators honored the senior commander of the Lewis and Clark Expedition in 1848. Dead at age 35, controversy still surrounds Lewis's mysterious death. Erected in 1848, the grave marker (inset) is an upright, broken shaft, symbolizing a life cut short. The Meriwether Lewis site and Pioneer Cemetery are found at milepost 385.9.

    NPS Map (PDF)
---
| | |
| --- | --- |
| Additional Points of Interest | |
---
Copyright © 2013-17 Benjamin Prepelka
All Rights Reserved