Scenic USA - Idaho

Upper Mesa Falls
---
---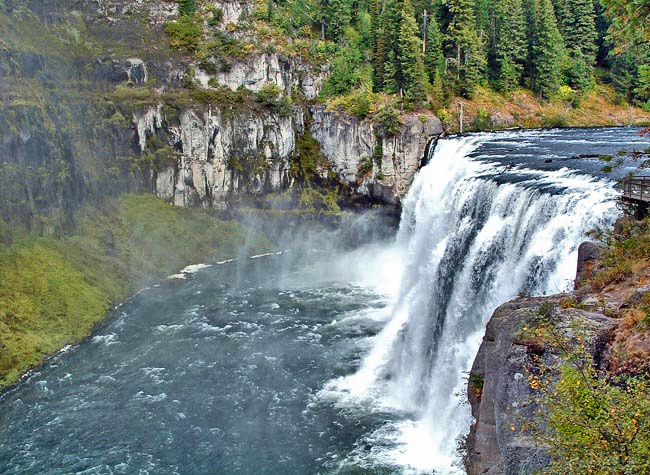 Photo by Ben Prepelka
Inset photos courtesy USFS
Yellowstone National Park, America's first national park, is truly one of the grandest of all the western parks. Offering days of unique adventure, its grand waterfalls,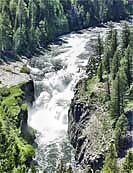 famous geysers, boiling springs, majestic mountains, pristine rivers and the quantity of wildlife sightings create a park experience like no other. And no Yellowstone experience would be complete without a short journey southward to see the Grand Tetons. With all this majestic scenery to explore, vacationers would be pressed to tackle any more scenic destinations, but those with ample time may want to cross the border into Idaho to experience another backcountry byway on the other side of the Tetons.
Here, just north of Rexburg, the largest city in the area, Idaho Route 47 exits the beaten path to follow Henry's Fork of the Snake River. This 30 mile drive, called the Mesa Falls Scenic Byway, begins in Ashton and offers a look at two of the last untapped waterfalls in the state. Here, Henry's Fork remains wild, unused for irrigation or hydroelectric projects. Leaving U.S. Route 20, the byway travels through farm country before descending into the Warm River Canyon and Henry's Fork Canyon. Overlooks provide a safe viewpoint of the canyons and distant Grand Tetons. The western view of the Tetons, with its foothills in the foreground, reduces the dramatic effect as seen in the east. Fishing and whitewater rafting are popular along this stretch of the river, and boast of being one of the best trout streams in America.
At the halfway point, visitor may be ready to see the highlight of the byway.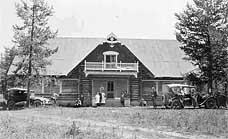 Maybe a quick stop at the Mesa Falls Visitor Center to get an overview of the area may be in order. The visitor center occupies the historic Big Falls Inn, built around 1915 by the Snake River Electric Light and Power Company. The Inn, once a popular dance hall, hotel and cafe, was restored in the 1980s. Now listed in the National Register of Historic Places, the visitor center is the starting point for the falls trail and boardwalk. From the Grandview Overlook, visitors gazed upon the Lower Mesa Falls as it's squeezed through a narrow gorge before dropping 65-feet to the river below. A mile long rim trail connects to the Upper Mesa Falls, where another impressive waterfall that plunges 114 feet.
Nestled among a large forest of lodgepole pines, the Upper and Lower Mesa Falls Area is surrounded by the Targhee National Forest. If time permits, the Mesa Nature Trail begins at the Upper Falls parking lot. A leg of the Idaho Birding Trail, the nature trail weaves its way through the forest and ends at Lower Mesa Falls overlook, completing a loop hike if desired.

Area Map
---
| | |
| --- | --- |
| Additional Points of Interest | |
---
Copyright © 2006-15 Benjamin Prepelka
All Rights Reserved