Scenic USA - Wyoming

Steamboat Geyser
---
---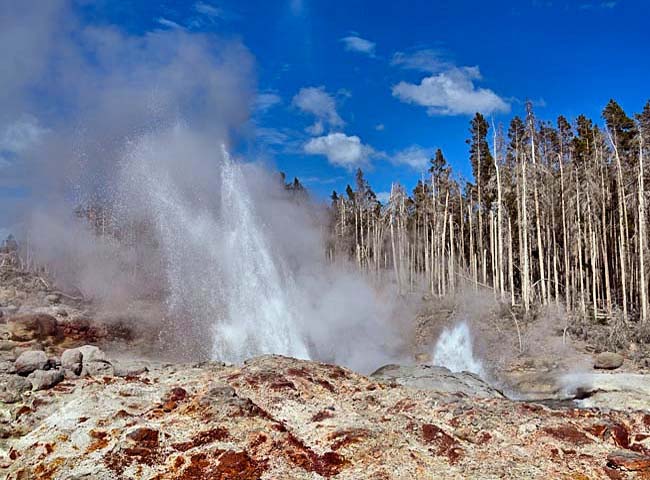 Photo by Ben Prepelka
Inset photos - NPS
Norris Geyser Basin, one of Yellowstone National Park's most active sections,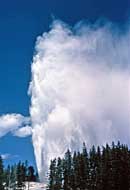 is also the hottest and most variable thermal areas in the park. Home to numerous hot springs, colorful pools and hissing geysers, Norris Basin is also the place to see the world's tallest active geyser, Steamboat Geyser.
Steamboat Geyser is nothing like the predictable Old Faithful geyser, and waiting on Steamboat to erupt may turn into a long one. Past records show eruptions may take anywhere from four days to fifty years, as was the case from 1911 to 1961. Pictured here is a minor eruption with heights from 10 to 15 feet (3-5 m). Water is superheated above the boiling point to an average of 204 °F (95.5 °C) as it leaves the fumarole. The water cools as it is propelled into the air (ranging in heights of 100 to 380 feet), and is no longer dangerous by the time it falls to the ground. However, because of the high temperatures of the water in these natural pools and hot springs, it is important that spectators remain on the boardwalks and designated trails. A fall into a hot spring may prove fatal.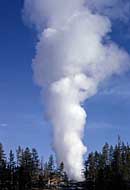 Unbelievable to many, tales of Yellowstone's roaring geysers and bubbling cauldrons made their way back to the East Coast during the mid 1800s. During an 1871 expedition, Ferdinand Hayden led a party of explorers that included an artist and a photographer. These images helped convince Congress that this area needed to be protected and preserved. Shortly thereafter, in 1872, President Ulysses S. Grant signed a law stating Yellowstone would be set aside as a park for public enjoyment. Yellowstone became America's first national park, and the beginning of an unprecedented preservation movement. Today, America's National Park System includes more than 400 sites and covers more than 84 million acres in all 50 states, the District of Columbia and many U.S. territories.

Norris Basin Trail Map
Area Map
---
| | |
| --- | --- |
| Nearby Points of Interest | |
---
Copyright © 2006-15 Benjamin Prepelka
All Rights Reserved