Scenic USA - Wisconsin
Scenic USA offers a collection of select photographs from a wide variety of historic sites, points of interest, and both state and
national parks found throughout the United States. Each photo feature is coupled with a brief explanation.
For further detailed information, links to other related sites are provided, but in no means are they an endorsement.
Discovery World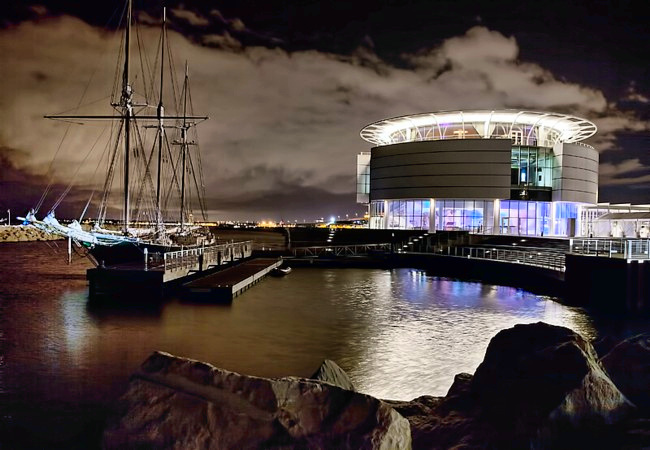 Located on the shores of Lake Michigan, Discovery World is dedicated to helping students in understanding technology and ecosystems, hoping to create a positive impact on today's environment. Here at Milwaukee's Pier Wisconsin, this 120,000 square foot facility helps its visitors connect with innovation, science, technology and the environment. Surround yourself in a 3-D virtual environment, such as piloting a plane, lying on a bed of nails, or journey into a nuclear reactor. Step into the aquatic world in Discovery World's Touch Tank, or head out into Lake Michigan on the 137 foot Denis Sullivan. You may also experience technology that's shaped modern music at the Les Paul House of Sound.
This striking night scene captures a quiet Discovery World, with the Denis Sullivan moored at its winter home. A re-creation of an 1880's Great Lakes cargo schooner, the Denis Sullivan enjoys the latest communications and navigational gear. Although powered with twin diesel engines, the schooner offers students the chance to set the sails, man the lines and take a turn at the helm. USCG certified as a sailing school vessel, students are also supervised in the ship's scientific lab, with studies of water quality, biology, and conservation. The Lake Watch Program involves students in grades 4-12. The vessel carries up to 50 day passengers and 21 overnight guests. The Denis Sullivan travels over 18,000 nautical miles a year, wintering in southern Florida. Its journeys travel throughout the Great Lakes, along the Atlantic Coast, and into the Caribbean, studying the entire hydrological cycle.
Copyright ©2010 Benjamin Prepelka
All Rights Reserved