Scenic USA - Nebraska
Scenic USA offers a collection of select photographs from a wide variety of historic sites, points of interest, and both state and
national parks found throughout the United States. Each photo feature is coupled with a brief explanation.
For further detailed information, links to other related sites are provided, but in no means are they an endorsement.
Indian Cave Park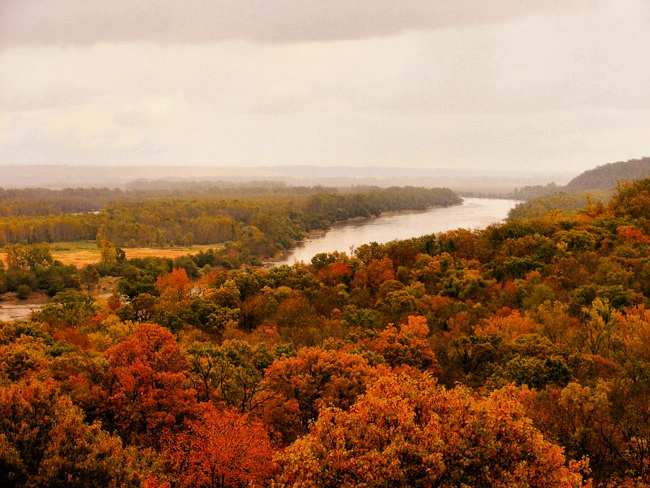 Named for a line of small recesses and a cave carved into sandstone river bluffs, Indian Cave State Park is found tucked into the southeast corner of Nebraska. Overlooking the winding Missouri River, this park signals a transition point, from an eastern deciduous forest to the Great Plains. Here along the Missouri floodplain, fast growing elms, cottonwood and willows rely on a tame Missouri River to survive. Today, river controls and fire suppression have allowed these trees to gain a foothold, creating new prairie woodland.
Here in Indian Cave, brilliant fall foliage covers the landscape in early October. Along the Missouri River bluffs, woodland birds and small mammals have moved into the shady woods, dominated by red oak, black walnut, hickory, pawpaw and blackberry brambles. Once a land covered in only tall grass, today's ornithologists cataloged a large number of new bird species in this forested area.
When Indian Cave was first introduced to the parks system, its acreage matched the state's remaining inventory. Today the park has increased to 3399 acres, offering hiking trails, Adirondack shelters, camping, horseback riding trails, picnic sites and modern conveniences.
Copyright ©2011 Benjamin Prepelka
All Rights Reserved