Scenic USA - West Virginia
Scenic USA offers a collection of select photographs from a wide variety of attractions, points of interest, historic sites, state and
national parks found throughout the United States. Each photo feature is coupled with a brief explanation.
For further detailed information, links to other related sites are provided.
Cheat River Gorge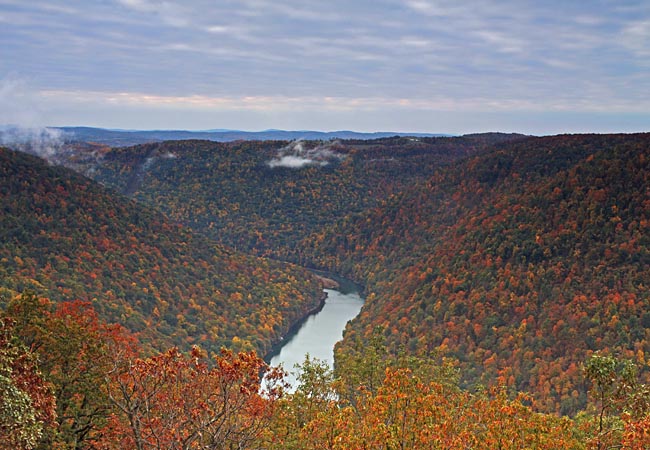 One of West Virginia's best examples of Wild and Wonderful is this view looking out over the Coopers Rock State Forest and the Cheat River Gorge. Below, the wild Cheat River has carved its way through northeastern West Virginia and drops an incredible 30 feet per mile over its 10 mile length. The Cheat River offers whitewater enthusiasts over 25 seething rapids. Ten of these rapids turn up the thrill factor, running Class III-V during high water. The Cheat Narrows is a great introduction to the canyon below with its series of small rapids and several big wave trains for that first ride. The Coopers Rock State Forest was first opened up to recreation during the depression era. The Civilian Conservation Corps created long lasting rustic picnic shelters made of American chestnut. These works of art are over 70 years old and are listed on the National Register of Historic Places. The Coopers Rock scenic overlooks, more projects of the CCC, are the best known viewpoints of the Cheat River and canyon. The main overlook is located on top a large rock, coupled to land by a footbridge. Nearly 50 miles of hiking trails and a 25 slot campground at Coopers Rock round out the park amenities. This view from the overlook captures the wonderful fall foliage at its peak as the hardwoods line the canyon sidewalls and cover the 1,200 foot drop to the river below.
Copyright ©2008 Benjamin Prepelka
All Rights Reserved