Scenic USA - Utah
Scenic USA offers a collection of select photographs from a wide variety of attractions, points of interest, historic sites, state and
national parks found throughout the United States. Each photo feature is coupled with a brief explanation.
For further detailed information, links to other related sites are provided.
Stillwater Solstice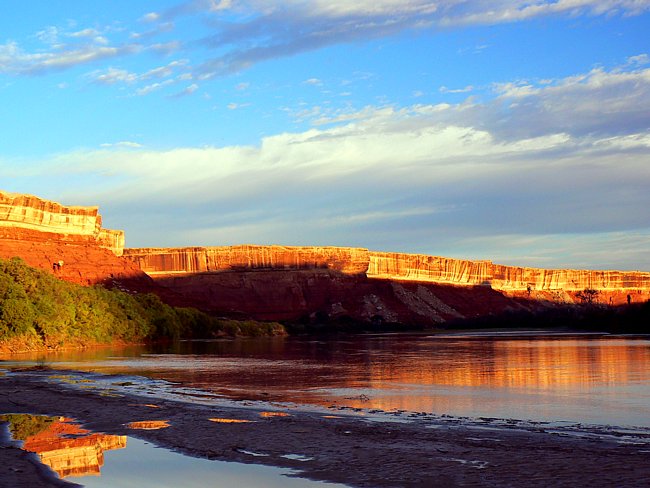 Starting off in a light rain, the Wasatch Mountain Club and invited guests embark on an adventure on the Green River. Seven canoes and thirteen canoeists head southward on the Stillwater section of the Green River, weaving through Canyonlands National Park. Traveling
along at the base the high canyon walls offers an unusual perspective, quite different from the land-locked overlooks above. The river trip is complete with wildlife sightings, ancient petroglyph close-ups, granary ruins, camaraderie, and scenic wonders in all directions. The adventure begins even before the canoes are wet, with a rough ride down switchbacks of Horsethief Point to the river at Mineral Bottom. The eight day trip on the Green River, sometimes a murky shade of brown, leads southward through the Potato Bottom Basin, around Bonita Bend and Turks Head, and on southward to the Colorado confluence. After logging 92 miles of travel, enduring periods of pesky rain, baking sun, stinging wind-blown sand, its remains a most memorable adventure through Utah's majestic canyons; one they'd take all over again.
Copyright ©2008 Benjamin Prepelka
All Rights Reserved