Scenic USA - Michigan
Scenic USA offers a collection of select photographs from a wide variety of historic sites, points of interest, and both state and
national parks found throughout the United States. Each photo feature is coupled with a brief explanation.
For further detailed information, links to other related sites are provided, but in no means are they an endorsement.
Sturgeon Falls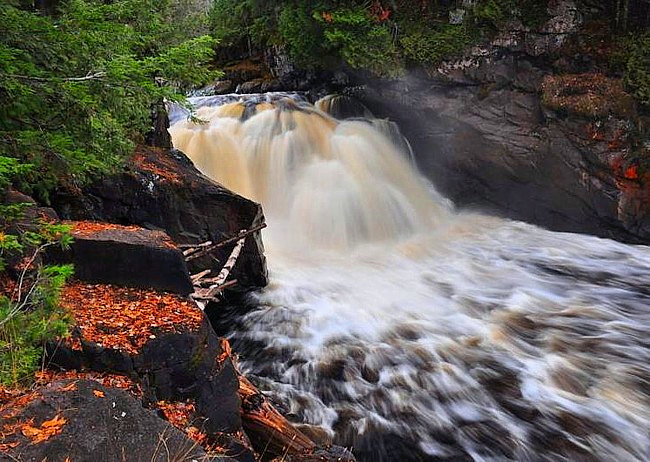 Managed by Forest Service, the Sturgeon River Gorge Wilderness surrounds the deepest ravine in Michigan. Here, the Sturgeon and Little Silver rivers create a rugged land, filled with canyons, rapids, waterfalls, oxbows and ponds. Totaling more than 14,000 acres, this section of the Ottawa National Forest is located nearby the Keweenaw Peninsula in the far reaches of Michiganís Upper Peninsula. Here, the forest is thick with old growth hemlock, red and white pine, sugar maples, birch and basswood. Keep in mind this is the wilds of the Upper Peninsula and there's a good chance one could see otters, beaver, mink, fox, deer and black bear.
This view captures the Sturgeon River Falls; a powerful falls that's funneled into a narrow gorge. Here, the Sturgeon River carved its way through the thick sandstone, slate and basalt, creating a beautiful 20 foot waterfall and 3000 foot gorge.
Finding the falls may be a little challenging, but not as difficult as the climb down to the falls. For those not up to taking the hike to the falls, overlooks on the East Rim offer plenty of Sturgeon River Gorge views.
Taking Forest Roads 2200 and 2270 out of Sidnaw from Route 28, the falls and East Rim viewpoints are found about twelve miles from the highway. Although it carries a designation as wilderness and should be road-less, one overlook is even deemed wheelchair accessible. Cautionary notes remind sightseers not to rely on area signage, as vandalism in the area is prevalent.
Copyright ©2011 Benjamin Prepelka
All Rights Reserved